Recognizing Heroes
Introducing the Chance Hero Award-Honoring the legacy of W. Major Chance, ActivCare founder. Through his vision and innovation, Major always expected the very best care for those with Alzheimer's and related dementias.
ActivCare launched the Chance Hero Award in 2017 to acknowledge those who carry on his vision. Our first recipient, Lima Taiti of ActivCare at Mission Bay, was recognized for her passion and commitment to serving residents with dementia and their families.
ActivCare is privileged to have caregivers such as Lima who are dedicated to the compassionate care of our residents every day. Each month, we will continue to recognize those associates that go above and beyond to enhance life for those with memory loss.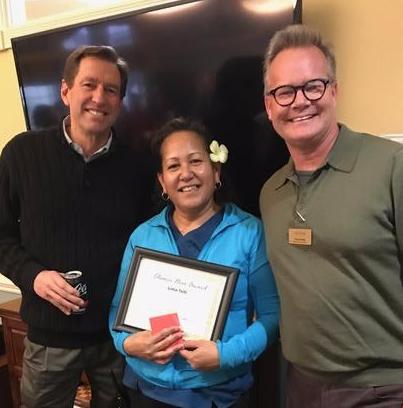 Chance Hero Award Winner
Lima Taiti, center, with Kevin Moriarty – ActivCare CEO, left, and Todd Shetter – ActivCare COO, right.