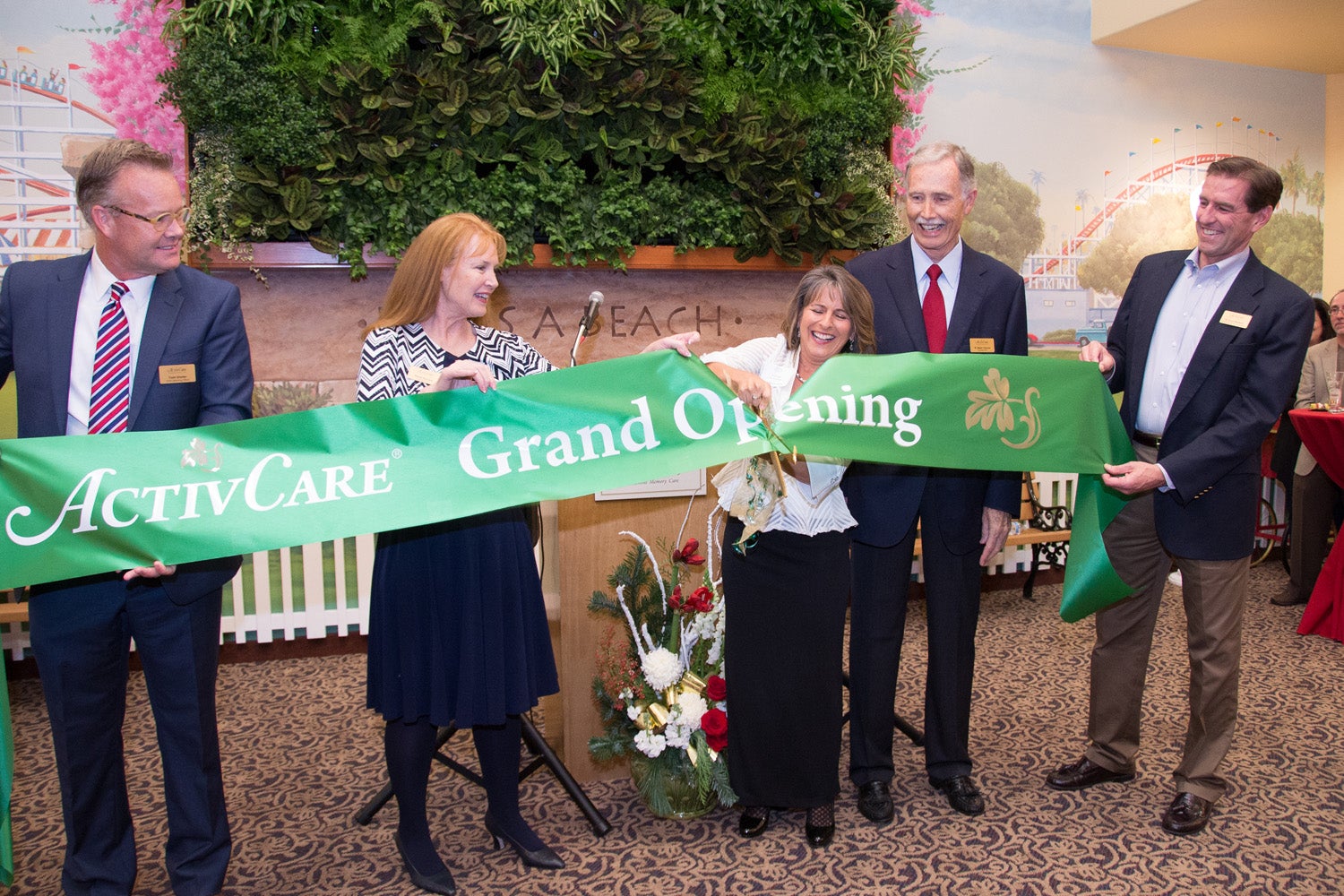 Serving the more than 60,000 San Diegans diagnosed with Alzheimer's or related dementia, ActivCare at Mission Bay, the new residential memory care community located in Pacific Beach, recently celebrated its ribbon cutting and grand opening. The state-of-the-art community is purpose-built to serve the changing needs of those with Alzheimer's or related dementia. ActivCare at Mission Bay offers private and semi-private accommodations for up to 60 individuals. The first 23 residents will begin moving in by mid-December.
"We are proud to open ActivCare at Mission Bay, our third new residential memory care community in San Diego County since 2011. Every part of this next generation of memory care communities is designed for seniors with memory loss," said W. Major Chance, founder and chief executive officer of ActivCare Living. "This specialized assisted living community offers a continuum of living options for all stages of memory loss. And, with specially trained caregivers, the ActivCare program will do more than just meet the daily needs of those with memory loss; it will also offer a new life, giving them purpose and enhancing self-esteem, and providing peace of mind for their families."
As the Baby Boomer Generation ages, it is estimated that 10,000 people per day are turning 65. This trend will continue through 2030. With the significant growth in the older population, current projections from the Alzheimer's Association indicate that the number of county residents diagnosed with the disease doubling in the next 15 years. In San Diego County, Alzheimer's disease is the third leading cause of death. And, nearly one of every three people over the age of 85 dies with Alzheimer's or dementia.
"There is an exceptional need for memory care and we are pleased to provide ActivCare at Mission Bay as an option for San Diego families affected by the disease," said Chance. "The opening of ActivCare at Mission Bay is not only providing our region with new employment opportunities, but our experienced staff, compassionate care, and expertise in the field of memory loss care also offers new hope for the families and individuals affected by memory loss."
A pioneer in memory care, ActivCare is a proven program established in 1988. For more than 25 years, ActivCare has cared for more than 4,000 individuals with memory loss. The 24-hour program provides personalized care for residents in a safe and secure home-like environment and it consists of structured activities designed to maintain the highest possible functioning level for each resident.
The community features themed murals and corridors to assist residents with way-finding, secure courtyards safe for exploring, and multi-purpose great rooms for engaging activity programs. ActivCare at Mission Bay's specialized living community offers three levels of care for those in early to late stages of memory loss resulting from Alzheimer's disease or related dementia. A unique feature of the community is the Mission Bay Club, a separate neighborhood for those in the early stages of memory loss or Mild Cognitive Impairment (MCI). The community also provides a host of services, including:
A thorough initial wellness assessment performed by ActivCare's Geriatric Nurse Practioner
A licensed nurse is scheduled 24 hours a day (a rarity in care facilities)
Assistance with bathing, dressing and grooming
Medication assistance
Registered nurse case management and care plans
Special services and activities such as inter-generational programming, a sports green in the courtyard, and special social events that involve family and friends.
In addition to ActivCare at Mission Bay, ActivCare Living also operates ActivCare at Bressi Ranch in Carlsbad, ActivCare at Rolling Hills in Chula Vista and ActivCare at Brittany House in Long Beach. ActivCare also provides family members with a number of resources, educational forums and support groups to help them better understand and help loved ones. For more information about ActivCare at Mission Bay at 2440 Grand Avenue in Pacific Beach or to take a tour, contact (858) 270-8000.
About ActivCare
ActivCare Living develops and manages communities designed to enhance the lives of those with memory loss. Whether in the early or late stages of memory loss, ActivCare's purpose-built communities, proprietary programs, experienced staff and compassionate care offer a new life to affected individuals and hope to their families. For more information about ActivCare Living and its communities, please contact (888) 636-5677 or visit activcareliving.com.